Adele Tucker, who lived to the age of 102, was one of the most revered teachers of her era.
She taught at several schools, but was most closely associated with Paget Glebe School, where she was headmistress for more than 30 years.
She also founded, with three other teachers, the Bermuda Union of Teachers to address black teachers' grievances, which included low pay and substandard working conditions. 
It was an inauspicious, yet momentous moment in Bermuda's history. In August 1616, the Edwin arrived in Bermuda laden with plantains, sugarcane, figs, pineapple and cassava. Also on board were "one Indian and a Negro (the first thes Ilands ever had)." 
The names of these two men, the first people of colour to remain in Bermuda, have been lost to history, but their arrival marked Bermuda's beginnings as a multi-racial society. Historian Michael Jarvis wrote in In the Eye of All Trade that over the next five years privateers and pirates brought more blacks to Bermuda from Angola and the Spanish Caribbean.
By 1619, he estimated there were between 50 and 100 blacks living in Bermuda. Blacks were brought here for their skills. Experienced in the cultivation of tobacco and cassava, they taught white farmers how to grow and cultivate them.
Initially, their status was "legally ambiguous". They worked primarily as indentured servants. Gradually, slavery was adopted and would remain in effect until Emancipation in 1834.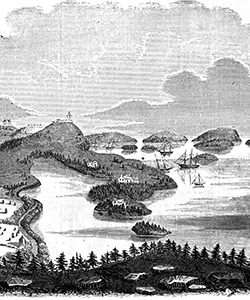 St. George's Harbour in the 17th century