Seven pairs of cahows, a species long thought to have been extinct, were found on three islands off Castle Harbour—an event hailed by naturalists around the world.
The team that rediscovered the birds was led by Robert Cushman Murphy, curator of birds at the American Museum of Natural History. He was accompanied by Louis Mowbray, curator of the Bermuda Aquarium, and a 15-year-old schoolboy, David Wingate.
The rediscovery of the seabirds which had blanketed the Bermuda skies by the thousands four centuries ago inspired David Wingate to devote his life to rescuing them  from extinction.
As Government Conservation Officer, he led the restoration of Nonsuch Island into a  nature reserve for the island's flora and fauna, including the cahow.
Source: Bermuda—Five Centuries by Rosemary Jones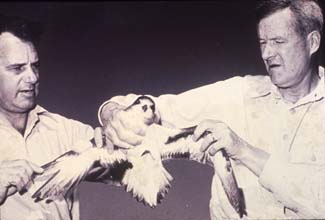 Louis Mowbray, left, and Robert Cushman Murphy,
with a cahow.