Earle Seaton's career as an international lawyer took him from his native Bermuda to East Africa, the United States and the hallowed halls of the United Nations. He possessed sterling academic credentials, having earned, on top of his law degree, a PhD in International Relations from the University of Southern California.

With his appointment in 1972 as Puisne Judge, he became Bermuda's first black Supreme Court judge, but he made his greatest contribution in Tanzania, where he opened a legal practice straight out of law school and rose to prominence as that country's legal adviser and United Nations representative.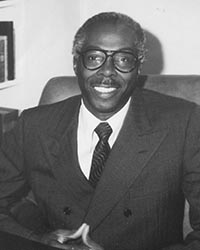 Seventy-two enslaved Americans began a new life in Bermuda following a Supreme Court case that gave them their freedom.
The episode, which captivated Bermudians for a week, began on February 11, 1835, when the Enterprise, a U.S. brig with 78 slaves on board, landed in Bermuda after encountering bad weather. The ship was on its way to Charleston, South Carolina from Alexandria, Virginia.
Slavery had been abolished in Bermuda seven months earlier, in August 1834, and Richard Tucker, an enterprising hotelier and president of the Young Men's Friendly Institution, sprang into action after Bermuda authorities took steps to prevent the ship from leaving.
He applied to the Supreme Court in a bid to have the slaves set free because they were in a country where slavery was no longer legal. During a packed Supreme Court hearing, the slaves were asked, one by one, what they wished to do. All but six said they wanted to remain on the Island. The Court granted them their wish.
They were warmly welcomed by Bermudians, who took up a collection for them right after the court case. Their descendants include retired teacher Verona Trott, who spoke about her ancestor Mahalay Warfield in Lucinda Spurling's documentary The Lion and the Mouse.
On February 18, 2010—the 175th anniversary of the landmark ruling—Chesley Trott's statue 'We Arrive' was unveiled at Barr's Bay Park, the site of the landing. 

Sources: Bermuda—Five Centuries by Rosemary Jones; Heritage by Dr. Kenneth E. Robinson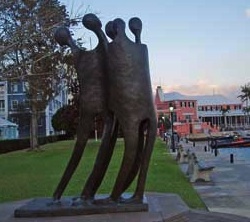 'We Arrive' by Chesley Trott, commemorates the landing of the Enterprise.