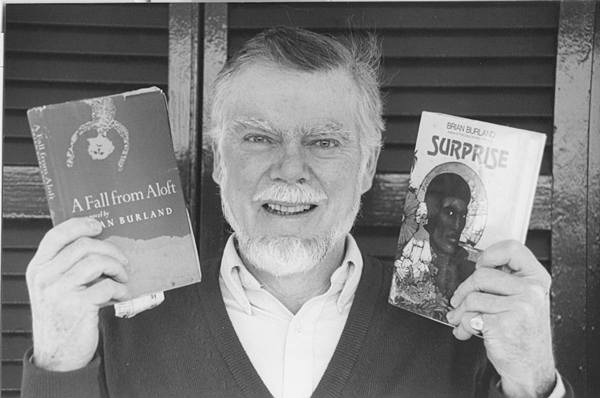 Brian Burland was the first Bermudian to leave his mark on the literary world as a novelist. He was the author of eight novels that were praised on both sides of the Atlantic and a much-loved children's book St. Nicholas and the Tub.
Bermuda almost always figured his novels, which occasionally ruffled feathers locally.  His novels dealt with war—which he opposed—colonialism, family strife and race. The language was salty, the Bermudian dialect pitch perfect and the sex scenes explicit. He won admiration and respect for his honest portrayal of a segregated Bermuda.
During the years he was most active as writer, Burland lived outside Bermuda, mainly in Essex, Connecticut. His accomplishments were largely unrecognised in Bermuda, although that began to change in his later years.

Thousands lined the streets of Hamilton to enjoy Bermuda's first Floral Pageant, which was proclaimed "an overwhelming success."  Bad weather forced the postponement of the "All Bermuda" Floral Pageant twice in one week, but the elements finally cooperated on the Saturday, when floats and marching bands wended their way along the parade route to the delight of spectators.

The pageant, which was also known as the Easter Parade, had been proposed just months earlier and came together without a hitch, even attracting coverage by overseas media agency, Pathé News. It was said to have been the inspiration for the Irvin Berlin song The Easter Parade.

Bermuda flowers, which decorated the various floats, were the focal point of the Floral Pageant, which remained a fixture until 1968 when a riot ended its run.

But riots in 1978 led to its revival in the form of the Bermuda Day parade, which has been presented annually since May 24, 1979, with the exception of 2020 when Covid-19 forced its cancellation.