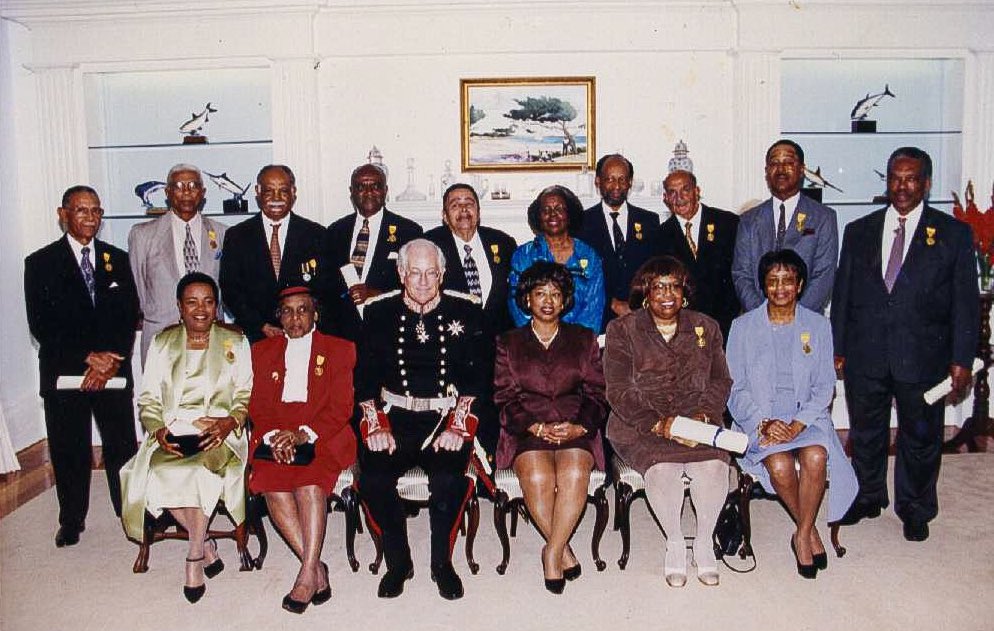 Surviving members of the Progressive Group pictured with Governor Thorold Masefield and Premier Jennifer Smith after being honoured in 1999.
Movie theatres reopened with open seating after a two-week boycott that dealt a fatal blow to segregation in Bermuda. The boycott, which was organised by members of the Progressive Group, began on June 15., 1959
Many of its members were university graduates who had returned home after studying overseas and vowed to make much needed changes to their homeland. They had been meeting regularly and in secret at the Flatts home of Rosalind and Edouard Williams, where they formulated plans for a total transformation of the society.
They decided on a date for the start of the boycott and on the eve of Day One, working under cover of darkness, they blanketed the Island with flyers that urged patrons to stay away from theatres.
Things started slowly, but gradually gathered momentum. The numbers of people who began mingling outside theatres in Hamilton increased; there were heated debates in Parliament—where blacks were in the minority—and promises that blacks would be able to sit anywhere they wanted when the new Rosebank Theatre was completed. James Pearman, president of the company that owned the theatres, famously misread the social temperature—he described the boycott as "a storm in a teacup".
Crucial to the boycott's success were soapbox orators, among them Kingsley Tweed, Kenny Ebbin, Richard "Comrade" Lynch and Robert "Jungle Bunny" Smith, who delivered electrifying speeches outside the theatres.
Soon theatres were empty and owners were left with no choice but to close them.  Victory came with a dramatic capitulation—owners announced that theatres would reopen on July 2, and that blacks would be able to sit anywhere they wanted. Hotels and restaurants followed suit.
The peaceful revolution marked the beginning of the end of segregation and members of the Progressive Group got on with their lives. They were never officially recognised until the 40th anniversary of the boycott in 1999, when social activist Glenn Fubler organised a tribute for surviving members on the steps of Hamilton City Hall, on behalf of the organisation Beyond Barriers.
The boycott was also the subject of Errol Williams' documentary When Voices Rise…, which premiered at the Bermuda International Film Festival in 2002, when it won the Audience Choice Award
Members of the Progressive Group were: Stanley Ratteray, the leader, Rosalind and Edouard Williams, Clifford Wade, Marva Phillips, Coleridge Williams, Rudolph and Vera Commissiong, Clifford and Florenz Maxwell, Eugene Woods, Esme and Lancelot Swan, Dr. Erskine Simmons, William Francis, William Walywn and Gerald and Izola Harvey.