Eddy DeMello carved a unique place for himself in entertainment as an impresario, entrepreneur and an advocate for the Portuguese community. 
His Music Box record store was a treasure trove for music lovers. He recorded Bermuda musicians on his Edmar and Duane labels and brought in name acts for live performances for more than 40 years.
The Royal Gazette reported that MPs listened "in grave silence" with the revelation in Parliament that a US base would be built in St. David's. The US wanted to build its base in Warwick and Southampton. It was part of the "destroyers-for-bases" deal negotiated by the UK and the US during the Second World War. Local leaders were shocked at the scale of the original plan, which would have split the island in two and taken in most of Riddell's Bay, in addition to islands in the Great Sound.
A two-member delegation travelled to Washington, with an alternate proposal. They argued that building a base in St David's would be less damaging to the tourism economy and affect fewer people,1500 in the west end, as opposed to 300 in St. David's. MPs knew of the alternate plan, hence the surprise and silence in Parliament.
In the end, more than 250 St. David's Islanders had their property expropriated. The largest property owner was Tommy Fox, who gave up 30 acres, much of it used to grow Easter lilies. The bases—a smaller one was built in Southampton—brought profound changes to Bermuda. While property owners received financial compensation, losing their land was devastating. Tommy Fox died a year after construction of the base began.
In August 2023, the St David's Historical Society erected a plaque and memorial on the site of his former property to commemorate the sacrifice made by St. David's Islanders for the war effort.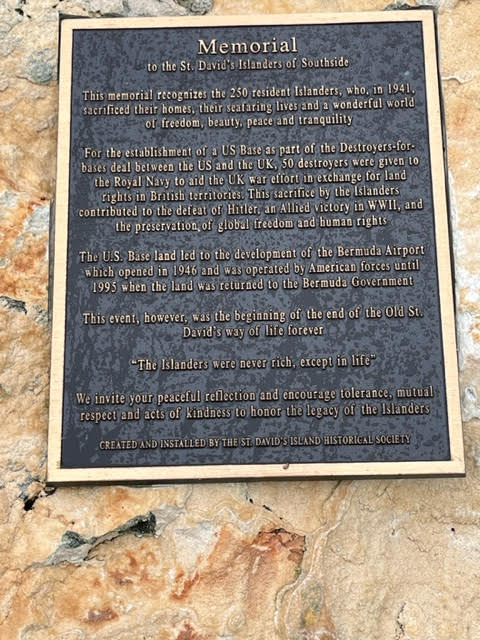 The Southside memorial commemorates the St. David's Islanders' sacrifice.