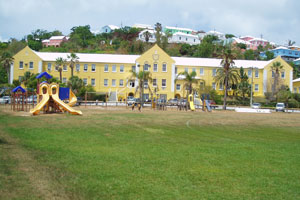 Central School, now Victor Scott School.
Central School had its official opening, ushering in a new era in education in Bermuda. The ceremony was front-page news, signalling the crucial role Central would play in the education of black Bermudians.  Governor Sir Thomas Astley Cubitt did the honours. Others in attendance included Board of Education chairman Henry Trott Watlington and Member of Parliament Robert Crawford, who had played a large part in getting the school established.
Built over six years, with a price tag of £26,000, the two-storey building was state of the art, with 20 "large and airy classrooms with plenty of window space", an assembly hall, drinking foundations, and a capacity for 900 students.
Mr. Crawford said the school had typical Bermudian architecture, yet provided a modern touch. He urged students to make the most of their opportunities, but warned that "with privileges come responsibility."Mr. Watlington said the school's curriculum would be similar to that of a British public school. 
Director of Education Charles Gilbert noted that the absence of a cricket pitch, but had been assured that cricket would not be neglected. 
Central School was formed from an amalgamation of four "overcrowded and badly housed" schools in Pembroke. Government purchased five acres of land on Glebe Road, Pembroke in 1925. Construction of the new building took place over the next six years. The four schools moved into the new building in phases. 
The school was built by leading black contractor Rufus Alexander Simmons. The first headmaster was Jamaican C.A. Isaac-Henry, who was formerly at West End School. Isaac-Henry enjoyed a reputation as a brilliant educator and musician. But in 1934, he was charged with the "criminal assault" of a female Cottage Hospital nursing student who been sent to the school to deliver a message. The case ended with a "no case to answer ruling", but Isaac-Henry resigned days later and quit Bermuda. He was replaced by Victor Scott. 
As of 2021, the  renamed Victor School will survive the proposed education shake-up that will see nine schools close their doors.